---
Santorum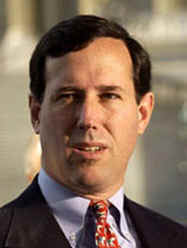 san-TOR-um n. A frothy mixture of lube and fecal matter that is sometimes the by-product of anal sex. See also: Sen. Rick Santorum (R - PA).
In April 2003, Republican senator Rick Santorum made some asinine comments in defense of laws banning gay sex. While this in itself may seem unremarkable, many people were amazed at how much detail he went into. Rick wasn't satisfied to call it 'degenerate' and move on. He really, really wanted to talk about sex, so he told the Associated Press: "If the Supreme Court says that you have a right to consensual sex within your home, then you have the right to bigamy, you have the right to polygamy, you have the right to incest, you have the right to adultery. You have the right to anything." Well, little did he know that two months later the Supreme Court would rule anti-sodomy laws unconstitutional... whoops!
It's not every day that a U.S. Senator squirts out a nugget like that. Public outcry was considerable, yet readers of Dan Savage's syndicated sex column Savage Love feared the ensuing scandal would soon be flushed away and forgotten. Acting on the suggestion of a reader, Savage issued this challenge:
There's no better way to memorialize the Santorum scandal than by attaching his name to a sex act that would make his big, white teeth fall out of his big, empty head. And don't doubt for a moment that Savage Love readers have that power. Savage Love readers selected "pegging" for a woman doing a man in the ass with a strap-on dildo—much to my Aunt Peggy's dismay—and "pegging" is already showing up in dictionaries of sexual slang. So, readers: Should a "Santorum" be a common or a rare sex act? Vanilla or kinky? Sweet or gruesome?
Submissions were published in a later column, readers voted, and the lube-fecal matter concoction entry won by a landslide:
While I agree with the spirit of naming something objectionable (to him) after Rick Santorum, I think it should be a substance, not an act. I would never want to Santorum anyone I liked. What a turnoff. Instead, I think it would be better to name some kind of sexual byproduct after him. After all, ending up with idiots like Santorum in elected office is a byproduct of the otherwise desirable practice of letting any old yokel vote. Specifically, I nominate the frothy mixture of lube and fecal matter that is sometimes the byproduct of anal sex. As in, "We had a great time, but we got Santorum all over the sheets." Or better yet, "Before I sodomize my gay, unmarried dog, I like to give him an enema so there won't be any Santorum."

—Wipe Up That Santorum, Anal Pokers
Since then, efforts to promote use of the word have had considerable success.
---