---
Gang Bangs
Much the same way that "terrific" once meant "terrifying" and "awesome" connoted a fear of God, the original term Gang Bang was strictly reserved for violent group rape, as depicted in films such as I Spit On Your Grave (1978) and The Accused (1988). However, the late 20th century saw the term broaden in meaning to include the voluntary act of consecutive sex with an endless parade of men. In the timeless annals of nymphomaniacal experimentation occuring prior to the invention of videotape, there have been precious few accounts in which a woman thinks it would be fun to have sex with dozens or even hundreds of people all at once.

What has changed? Thorough exegesis might point to shifting cultural mores and the erosion of the Victorian courtship ritual in the 1960s, resulting in a pornography industry whose egalitarian ideals were put in direct competition with an ex-puritan viewership desirous of exponential innovation: the invisible hand of Adam Smith tugging at Marx as urgently as it could.

However, the practical masturbator knows only two real reasons explain the rise of the gang bang as entertainment spectacular: K-Y Jelly was offered for sale over the counter in 1980, and affordable home VHS players were introduced to the consumer market around the same time.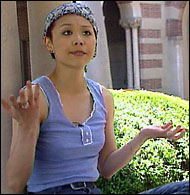 While there are many lubricants in the world, both organic and manufactured, K-Y is still considered the superior product. It's durable and won't foam up like certain brands. Along with industrial-strength lubricant Abilene, it was successfully stress-tested by porn star Annabel Chong in her epic bid to become the first-ever world record title holder for biggest gang bang. Chong had sex 251 times with 80 men in one day, cementing her place in the history books. Although K-Y enabled the marathon, the lure of videotape provided the incentive: Chong was paid $12,000 for her troubles, and the tape hit the market as World's Biggest Gang Bang I (1995). Porn industry sales figures are notoriously hard to come by, but it's a safe bet that World's Biggest Gang Bang I made a hell of a lot more than $12,000.

The sequel, World's Biggest Gang Bang II (1996) starring Jasmin St. Claire in 300 sexual acts, was hardly shelved before pornstar Spantaneeus Xtasy (pictured above) tallied a casual 551. Candy Apples sought to trump them all with a kilobang, but was cut short at 721 by the unexpected arrival of the LAPD. One should take into account the fuzzy arithmetic used to calculate these records. Gang bang statisticians generally ignore the actual number of participants and focus on "instances of sex" -- a deliberately general term that specifies neither orifice nor instrument -- though each act is just a minute or so in length. Thus "record" numbers are necessarily inflated by repeat participation: Chong gripes that out of everyone who showed up for her gang bang, "about 66% were not able to perform." Apples' 721 might seem dumbfounding at first, but the fifty men involved are nothing to write home about.
As the afterglow of rapture limned the fading twentieth century, an aspiring Belgian actress named Sabrina Johnson sought to break all previous gang bang records once and for all. The breathtaking two-DVD opus Gang Bang 2000 (2000) documents her attempt to chug two-thousand cocks in as short a time as possible.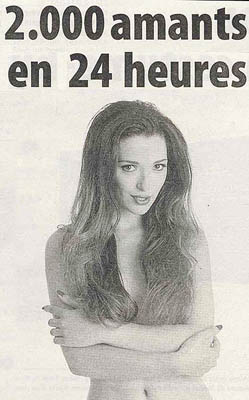 As with all attempts following the Chong cassette, the film eschews any heavy-handed, boner-defoliant feminist statement, emphasizing instead the unrestrained cocksucking power of the individual woman. The film is a monument in minimalist pornography, with Fleshtone Productions owner/director Danny Carrelli knowingly aiming his exercise in serial fucking at the lavish Guccione epics of yesteryear. The assembly line has replaced the craftsman, the palace exchanged for a spartan warehouse, usually rented out for trade conferences and postcard shows.
Safety first: all guys are ordered to get HIV tests beforehand and wear new condoms for each scene. Lubrication is taken seriously -- any accumulated santorum or ejaculate is wiped up and disposed of while the camera politely looks away. Carrelli seems intent that this won't be just another frog-eyed bukkake flick. Most ejaculations are not even handled by Johnson herself, but are delegated to six supportive -- yet visibly unenvious -- fluffer girls with the snappy alacrity of Alice from The Brady Bunch. Johnson herself employs a minimum of positions to conserve her stamina. She smashes Chong's record in no time, though she slows a little before overtaking Candy Apples' 721. She is now deep in uncharted waters; she offers a meek cheer and tries to look out the window, thinking about ice cream and ice cubes.
Johnson passes the #1,000 mark with a groan and lets some guys beat off on her face for a bonus 25 points. She leaves bowlegged, clammy but confident. The following day she's still a little ragged, but after a stiff black cup of coffee she gets back to work. It's a different crowd on the second day: fewer porn actors and more fans. Mostly they look like they just got the afternoon off work, standing around in speckled oversized t-shirts and tube socks, flashing bright blue wristbands like a crowd of middle-aged ravers. One by one they wait in line for their minute in the spotlight; one by one they trot back to the foot of that line, a parade of prison tattoos and smallpox vaccination scars casually massaging themselves back to tumescence.
By the end of it, Johnson is too sore to use anything but her mouth. She takes a break after #1,999 and puts a bag of ice between her legs. The final participant is 13-inch Jack Napier (named for the Batman villain), who gives a gentle extended performance until she finally taps out. "I was really sore," a dazed Ms. Johnson told Adult Industry News, a trade publication. "It started off with ecstasy on the first day, and led to kind of sheer hell! It was kinda like a tattoo. It was painful while I was doing it but afterwards it was an experience, and I'm glad I did it."
The new year's confetti had hardly settled before scandal broke out. Early reports had been dismissive of the event, noting a sparse turnout and a loose handling of the scoreboard -- at one point, the tally jumped 500 points in 30 seconds. Producers did everything they could to swell the talent pool, trying to allow in participants who had been more than a week since their last STD test, even egging the crew into it. Johnson was shocked when one of the fluffers got caught blowjobbing a spectator who lacked a wristband. When checks started bouncing and the producers skipped town, something had to be done. In June of 2000, Sabrina Johnson broke the silence, accusing Carrelli of gross mismanagement of the gang bang's casting and finances:
"The whole thing was a complete and utter sham. There were around 25 guys on the 1st day and about 14 on the second. If I had to guess I would say that legitimately I probably did about 500 guys (not different guys) I had stressed all along that I wanted to do it legitimately."
Meanwhile the DVD release date had been pushed back again and again. Video streams on the Fleshtone website buffered and stalled, squeezing out only a rudimentary flip-book with the jerk value of a Mandelbrot set. Customers watched helplessly as their credit cards were billed and re-billed long after their subscriptions had been cancelled, their commemorative t-shirts and coffee mugs lost in the mail.
Thankfully, the twenty-first century gang bang has seen a return to quality over quantity. XXX Fat Gang Bang (2002) stars Kat Kleevage and fluffer Pamela Peaks; guest-hosts are Joey Buttafuoco and High Pitch Eric from The Howard Stern Show. In a subtle variation on the standard "anyone-goes" casting technique, all fifty men in this film are required to weigh 300 pounds at least. If the stars of Gang Bang 2000 were loud and proud, these gentlemen are downright orotund. After weighing in, they stand shoeless, shirtless and shortless beside a lavish buffet. They chat amiably amongst themselves: word is that a crowd of overweight lady volunteers are in the next room, ready to take over once the two slackjawed pornstars pass out. They rub their hands together briskly and beam at the camera, turning down any proferred Viagra -- no need, no need -- anxiously waiting for the real pageant to begin.
---